This weekend, we will be witnessing the most awaited royal affair in recent years. Prince Harry is tying the knot (finally!) with actress Meghan Markle. It's a fairytale come to life and we're swooning! While past royal weddings have been traditional and intimate, we're expecting this one to be a little bit different. For this event, it's going be Hollywood meets royalty — now that's exciting!
The couple will wed at St. George's Chapel in Windsor Castle in front of 600 guests while millions of people will watch from all over the world. And while we wait for the big event, we can't help but imagine what will unfold this Saturday. We have list down our most anticipated moments for this weekend's wedding of the year.
1. Meghan's Gown
Celebrities usually keep their wedding details on the down low, and it's no different with Meghan and Prince Harry. There have been speculations about the bride wearing Erdem Moralioglu or Ralph & Russo, but we're guessing she'll be wearing something classic, a couture brand like Givenchy.
2. The Bouquet
If there's something we're big fans of, it's beautiful floral arrangements and a stunning bouquet. According to news, the arrangements in St. George's Chapel and Hill will include branches of beech, birch, and hornbeam, along with white garden roses, peonies, and foxgloves, with London florist Philippa Craddock heading the team. We also already know that traditionally, royal brides carry a sprig of myrtle in their bouquets, but what would the other blooms be? Will she be honoring the late Lady Diana by including lily of the valley in the bunch? Let's see!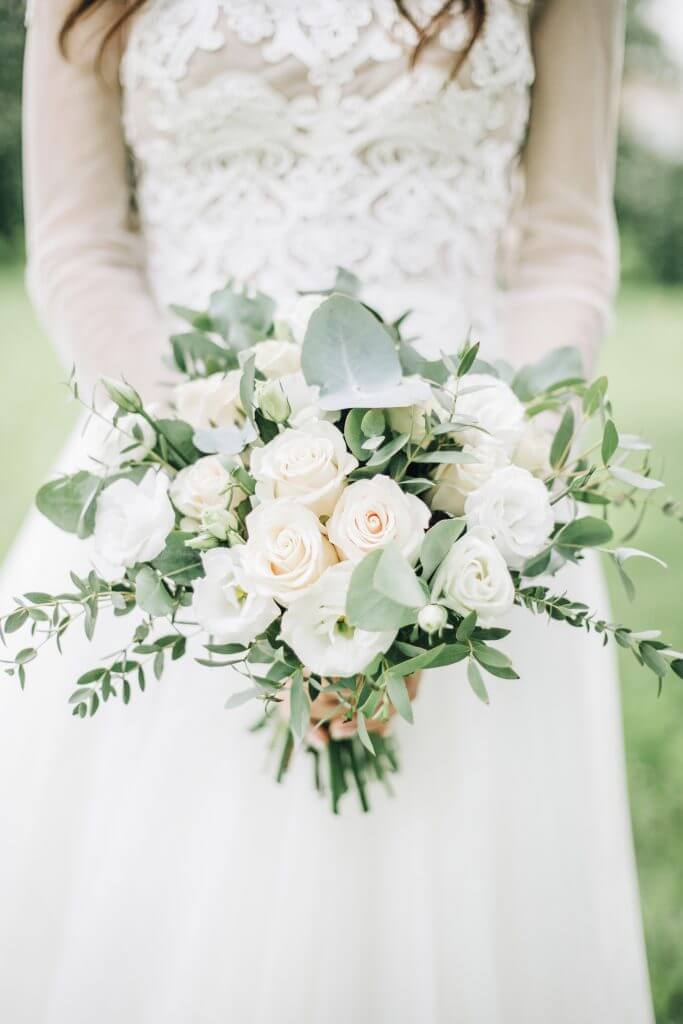 3. The Cake
A wedding, be it of royalty or a commoner's, is not complete without a cake. Back in March, it was confirmed that London-based pastry chef Claire Ptak will make the royal cake. Instead of the traditional fruit cake, Meghan and Harry's will be a lemon elderflower cake with fresh flower decors covered in limited edition buttercream icing. It wasn't announced how many layers it will be and we can't wait to find out.
4. Celebrity Guests
This affair is not just a royal wedding, it's also a Hollywood shindig! Although not as grand as William and Kate's nuptials, Saturday's ceremony will have its fair share of popular faces. Confirmed attendees are of course the royal family including Queen Elizabeth II, the groom's father, Prince Charles and his wife Duchess Camila of Cornwall, Prince William who will stand as best man, Duchess Kate and their kids, Prince George and Princess Charlotte. As for celebrities, confirmed attendees are the bride's closest friends Priyanka Chopra, the cast of Suits, Misha Nonoo, and Serena Williams. Sir Elton John and the Spice Girls will also make an appearance. Now that's a royal party we want to be a part of.
5. The Carriage Procession
Following the ceremony, Prince Harry and the new Duchess will have their iconic carriage procession around the town of Windsor. They will be riding an Ascot Landau carriage drawn by two majestic Windsor Grey horses. This part of the wedding is the newlywed royals' way of expressing their thanks and gratitude for the public's warm wishes. The procession will last for 25 minutes and will be witnessed by the British crowd.
6. The Guests' Wardrobe
Royal weddings are also fashion events, and we're excited to see what the guests will wear on Saturday. Designer clothes, shoes, and bags will abound. And of course, we're most thrilled about those quirky fascinators the women will wear.
7. Meghan's Royal Title Announcement
As tradition goes, the bride's official title will only be announced right after the wedding. Since Meghan is not of royal blood, she's not expected to be called a princess. According to authorities on royal etiquette, Meghan will most likely be called Duchess of Sussex, and Prince Harry will change his title to Duke of Sussex. The same thing that happened to William when he married Kate, with both getting the titles of Duke and Duchess of Cambridge.